---
Sex (so called "Adult") dating sites are designed for sexually liberated adults who want to have fun with no strings attached. They cater for both singles and couples, swingers and the just curious who are into anything from straight up sex to more alternative practices,one night stands to ongoing affairs. But are sex dating sites for real? Do real people hang out there who are looking to get laid? The short answer is yes, though as always, there are a few issues to consider. I talk about these below,but first, the sites themselves. Here are ones I think are worth trying.
It goes without saying that these sites are for people over the age of 18 only. To be fair, all dating sites officially are, but this is especially true when the sites are all about the sex.
The sites covered in this post are (full reviews below):
---

Full reviews

Outright sex sites
AdultFriendFinder is the mother of all adult dating sites. It's huge, it's got members from all over the world and it's owned by Penthouse, which means you'll never be short of sexy blogs, wecam chats and hot member videos. It's definitely the slickest of the lot, with some serious features to keep you busy for weeks. Like all big, high profile dating sites, however, you have to wade through a lot of dud profiles, scammer profiles and other crap to get anywhere. There's a lot of complaints about this site all over the Internet, but depending on where you are in the world, it may work out for you. It *is* an extremely popular site and some people do quite well on here.
---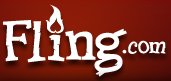 Fling.com is a huge international sex dating sites with members from all over the world looking for flings of all kinds. The site offers live webcam feeds as well as video chat, forums and galleries. The site's sheer size means you're bound to find some dodgy profiles on there, but there do seem to be some genuine ones on there too.
---
---
Alt.com is the fetish dating site from the same company as AdultFriendFinder. Sort of like the twisted sister. It caters to people interested in a whole array of swinging and fetish activities – alternative stuff from bondage to… well, just about everything imaginable. Like its sister site, there are blogs, a sex advice magazine, webcams and all the other things you should expect from a well-designed, slick supersite. It's a huge site, so prepare to find plenty of fake profiles from scammers, alongside the genuine ones.
Bondage.com is a dedicated fetish/BDSM community with forums, highly rated blogs, lots of great fetish pictures and also a large personals section. It's owned by the same people as AdultFriendFinder, so is huge, yet with some scammy profiles among the real ones.
---

Slightly less "in your face" sites
Passion.com is a well-designed sexy personals site that's somewhere between a flirting site and a full on sex personals site. It's from the same company as AdultFriendFinder and has a good list of features including live webcam chats, etc. The site accepts members from all over the world. Like AdultFriendFinder, there are some profiles here that were obviously put on by prostitutes, pay sites and scammers, which is not to say there aren't real people on here.
---
Kasidie.com is a site for swingers. It's part sexy dating, part social network, with the ability to make connections that go deeper than just one off casual sex. Depending on where you are in the world, its also a good place to find out about swinger parties and events. The site is simple looking, but is friendly and effective. While not as huge as AdultFriendFinder it appears to be mostly genuine.
---
---
Special issues to be aware of
Sex dating can be dodgy so you have to have your wits about you. Unsavoury characters hang out on such dating sites looking to make a quick buck of people trying to get some. It's very common for prostitutes to hang out on such sites, but they don't ask for money until you've met them in person, maybe even slept with them. Scammers also hang out there, as well as fake profiles put up by paid webcam sites. The sites themselves are often very quick to take your money and very slow to release you. Make sure you read the terms and conditions when you sign up, at least the part about when you will be automatically charged for membership renewal.
Any site that mentions "sex" or "adult" in the title, is guaranteed to have more men on it than women, followed, most likely, by couples looking to swing. Men are much more likely to go actively looking for sex and, frankly, if a woman wants sex, she can just go out and get it, unless there's a reason why she can't. I'd say it's a fair bet that a woman who looks like an underwear model would not be looking to date on about 99% of the sex dating sites out there, even if she had no standards whatsoever. I'm not saying that all women who date on such sites are by definition ugly – there could be other reasons why they can't find what they're looking for in their locality and need a dating site to help – but be aware that the superhot babes you may see on the site are more likely to be fake or pros than anything else. One way around this is to try casual dating sites instead. "Casual dating" is often a nice term for much the same thing as adult dating, but without the stigma, so women are more likely to go there. I've listed a few above in the "slightly less in your face" category.
A lot of the people on the sites will be married or otherwise attached. That's a fact. You'd hope because of the nature of the site, people would be open and honest about it and some are, but not all. It's up to you to decide whether you care.
If you're dating on a site where people are who are looking for sex, expect to find people who are looking for sex. If you are man looking for women who are after a quick shag, it helps to respect the fact that the women may enjoy it too and that doesn't make them cheap. Otherwise, your experienced is guaranteed to suck, and not in a good way. I've seen people reviewing sex dating sites who were complaining about how filthy it felt and how they were sorry for having shagged someone who'd sleep with anyone. Hello! That's why she slept with you. I, for one, don't see anything wrong with both men and women actively looking for sex, but sadly, even guys looking for sex, often judge women unfavourably if they want the same. To them, I say: If you want a virgin, you're on the wrong site, dude.
---
100% free adult dating is rare. 100% free adult dating that's any good is even rarer. No part of the industry is more prone to trouble than the sexual dating part, so match that with the often problematic free dating niche and you're guaranteed some kind of trouble. A better bet is to try one of the free dating sites that is not exclusively adult and use their system to choose the relationship type you want, setting it to "casual sex" or whatever the equivalent option is. You might not be able to upload naked pics of yourself and view nude profiles, but you could potentially meet likeminded people anyway. Two free sites that are not adverse to people looking for sex are OKCupid and Plentyoffish. Just remember that not everyone on there wants what you want, so keep it in your pants, till you've found someone who does!
These points aside, on the whole some people do enjoy their sex dating experiences. It all depends on what you want to get out of it. Couples, especially, find it useful as it allows them to meet likeminded people they can play with. Just remember to play safe and follow the online dating safety rules.